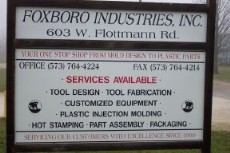 Foxboro provides many services to our customers and built itself as a one stop shop in injection molding with the capability to assist in part development, tool design and construction, prototype and production molding, secondary part assembly, and specialized packaging.

Recognizing the need for adaptability, Foxboro closely aligned itself with several Midwest plastic compounders and distributors to ensure a steady, unhindered flow of quality materials from both the domestic and international marketplace. These close connections allow Foxboro and their customers to have unrestricted access to any type of resin in any quantity at virtually all times, whether it is a truckload of a commodity grade resin or 50 lbs of an exotic custom extruded resin. This capability allows us to make a wide array of resins available to our customers and enables Foxboro to have unique specifically compounded resins capable of matching our customers demands in many industries including HVAC, medical, professional fireworks, food service, and janitorial.
One of the main advantages these connections allow us to pass along to our customers is the custom blended resins that many compounders don't offer, many compounders offer "off the shelf" type resins and have little to no flexibility with custom application based resins. Our connections with our material suppliers allow us to look at our customers' application and then compare the needs of the application to the properties of the standard off the shelf resins with the ability to subtract or add ingredients to those resins. This ability allows us to provide our customers with the most cost effective and best suited materials for their applications.